It seems winter has finally arrived and with it snow, cold weather and thoughts of delicious, creamy cocktails. I don't imagine everyone connects these three things but I see white snow and think white drinks, creamy, sweet and indulgent. See, we are not even out of January and my resolutions are already down the tube!
I am planning a party to celebrate the season with all things sparkly and white. January can be such a bitter month, full of dreary days, too many salads (or not,in my case!) and freezing early morning journeys to school and work. I think a little festive gathering will be just the ticket out of this funk. I will not even pretend that I will be enjoying this gathering around my fire pit. It is covered, finally, with snow.
I am going to bake up a batch of gorgeous sugar cookies and a mound of Mexican wedding cakes dusted in a snowfall of confectioner's sugar.  I will serve them up with my favorite white cocktails, White Russians, Toasted Almonds and something new I have just come across, Toasted Marshmallow Martinis. Then I'll send my friends home in a sweet, slightly loopy sugar haze.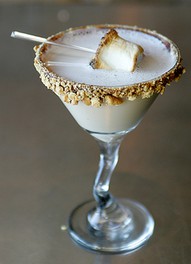 Recipe Type: Cocktail
Prep time: 5 mins
Cook time: 5 mins
Total time: 10 mins
Serves: 2
Ingredients
2 ounces vanilla vodka
2 ounces Frangelico hazelnut liqueur
2 ounces heavy cream
2 ounces Smucker's marshmallow topping, plus more for rimming martini glasses
mini marshmallows (optional), for garnish
Instructions
Combine ingredients into a cocktail shaker filled halfway with ice. Shake for 30-40 seconds.
Serve into martini glasses rimmed with marshmallow topping.
Garnish toasted marshmallows
Enjoy and Add Light to your Life, Joy