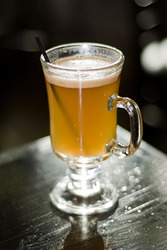 Spend your evening in front of a roaring fire in your Fire Pit, warming your belly with a delicious hot cocktail and a few sweet nibbles. After a long Saturday spent looking for the perfect Christmas tree or finishing the last bit of work in your garden, what could be nicer than relaxing around the Fire Pit with a Hot Toddy or Hot Buttered Rum.
For a Hot Toddy, put a swirl of honey and a squeeze of lemon in the bottom of a mug. Add an ounce or two of your favorite brandy or whiskey and fill the mug with hot black tea. 
Hot Buttered Rum is a delicious concoction of 2 ounces dark rum, 2 whole cloves and a stick of cinnamon mixed together in a mug. You then heat apple cider (my favorite) or water and add to the mug with a pat of unsalted butter and perhaps a grating of nutmeg.
Add a plate of butter cookies and a few spiced pecans and it's a little party! Now all you need to do is invite a few friends over to enjoy your Fire Pit and treats or warm up some cider (without the rum) and make it a family evening.
Add Light to your Life,
Joy