I have recently rediscovered Middle Eastern food. Hummus seems to be ubiquitous these days with all kinds of strange flavors available in the grocery store. But aside from that and tabbouleh, there are many other delicious and interesting salads and dips. There is, of course, baba ghanoush, a creamy dip of roasted eggplant, tahini and olive oil with some spices thrown in. These three staples are often served with a slightly bitter arugula salad and a salad made of cucumber, tomatoes and onion dressed simply with oil and lemon juice or with a minty yogurt dressing.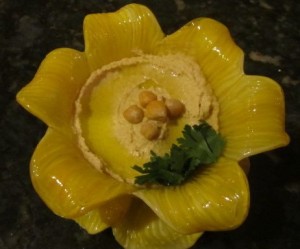 These small plates, called mezze, are served together and meant to be eaten with flat bread. With a big basket of warmed pita bread, you barely need a serving utensil or a plate.  It makes perfect snack food to eat when entertaining outdoors around a fire pit. Arrange all the little plates and bowls on a large platter or tray and set it next to your fire pit. Your guest can snack on it while drinking chilled Chardonnay and enjoying the fire. For me, this is a meal.  But if you feel you need something more substantial, follow the salads with a simple marinated grilled chicken or lamb kabob. In the Middle East, they would make lamb, either ground and formed into a ball shaped around the skewer or cut into cubes, marinated and grilled with onions and pepper.
I encourage you to try making hummus from scratch. It is very easy and much more delicious than the store bought variety. What follows is a very basic recipe.  You can change it as your taste dictates, adding more garlic or a teaspoon of cumin and a pinch of cayenne pepper, if you like.
Hummus
1 can (15 oz) chick peas
1 clove garlic, smashed, peeled and minced
1/4 cup tahini
2 tablespoons fresh lemon juice
1/4 cup extra virgin olive oil
1 teaspoon kosher salt
3 tablespoons water, or as needed
Put all ingredients except water into the bowl of a food processor and process until smooth. Add water as necessary to make a smooth, creamy dip. Serve with vegetables or warmed pita bread. Makes about 2 cups.
Happy Feasting!
Joy