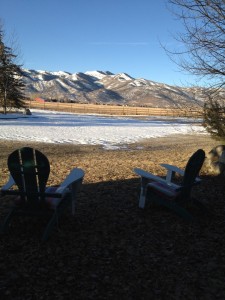 I am blessed to be spending the holidays at a friend's ski house. It has everything going for it- great location, a view of the mountains and an outside hot tub. What is missing?? Nothing, really, but a Fancy Fire Pit would be so gorgeous and fun, sitting out in the snow. Frankly, it is a little too cold to sit outside at the moment, with temperatures hovering in the low double digits. But after skiing, while the sun is still shining and the air is a balmy 35, I would love to sit by the fire with my glass of red wine and look at the mountains.
I would not be opposed to making something delicious to enjoy with my wine. A big piece of raclette cheese, melting by the fire (put it on a tray and set it next to the fire pit, on a table) would be great. Serve it with a bowl of boiled tiny new potatoes and chunks of bread to skewer and spread with the cheese. So delicious and very Swiss apres ski.
For something more familiar and retro, but equally fortifying, make potato skins. Bake russet potatoes in a 350 oven for about an hour. Let cool slightly and then scoop out all but 1/2″ of the flesh. At this point, you can go traditional with bacon and cheddar cheese or get creative. I like to go Italian with crisped pancetta, diced fire roasted tomatoes and parmesan cheese but making them Mexican with diced peppers, salsa and monterey jack cheese melted on top would be good as well. Make sure to put out sour cream and chopped scallions for topping.
If you bring a warm blanket outside with your drinks and appetizers, all will be happy and warm, sitting around the fire pit enjoying the view.
Add Light to Your Life, Joy