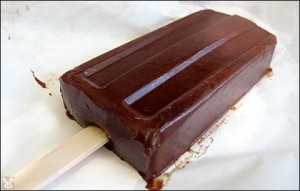 There is a basic contradiction between eating treats in the summer and having to wear a bathing suit, at least for me. When I even think about ice cream, I gain a pound. But lucky for me, I cannot eat dairy, so I came up with a homemade fudgesicle that is delicious, non-dairy and nearly healthy. I am still not too excited to get into that bathing suit, but truth be told, I don't really swim so I am able to avoid it pretty easily. I can swim, of course, but I don't like being cold and here in New England, you cannot get into the water without getting cold. For this week's heat wave I will sit by the pool in a nice little sun dress and eat my fudgesicles. It is too hot to light the fire in our Fancy Fire Pit but if you fill up a kiddie pool it makes the perfect foot soak!
Fudgesicles   Makes 4 pops
1/4-1/3 cup granulated sugar, depending on how sweet you like them
1 1/2 tablespoons unsweetened cocoa powder
1 tablespoon cornstarch
pinch kosher salt
1 1/4 cups light coconut milk
2 tablespoons semi sweet chocolate chips
1/2 teaspoon vanilla extract
Mix together sugar, cocoa, cornstarch and salt in a small bowl and set aside. In a heavy saucepan, melt chips over low heat, stirring with a wooden spoon. Stir in dry ingredients and coconut milk and cook, stirring constantly, over medium heat until thickened. This will take 5-10 minutes. Remove from heat, stir in vanilla and let cool slightly, stirring occasionally to prevent a skin from forming on the top of the mixture. Pour into pop molds and freeze until firm, about 2 hours.
Run molds under warm water to loosen pops and serve! Here is to summer heat and treats! Joy